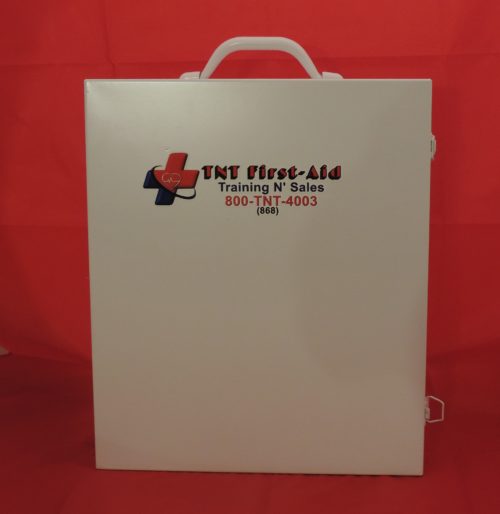 3 Shelf Metal First-Aid Cabinet
This OSHA and ANSI approved 3-shelf metal first aid cabinet comes fully stocked and ready to be used right away. Great for homes and businesses.
Give your employees the peace of mind to know that you care about their safety. This cabinet is made of durable materials to withstand years of use and can be refilled whenever needed with the same products from TNT First-Aid or most standard first-aid materials from other manufacturers.
This item is eligible for purchase with HSA & FSA card!
$275.00
4 in stock
Description
Additional information
Reviews (0)
Description
3 Shelf OSHA approved First-Aid cabinet.  Comes fully stocked with everything you need for the home or workplace and meets OSHA and ANSI standards for first-aid in the workplace.  Wall mountable and comes with hardware to mount the cabinet.  Also great for in-home use to have everything in one place that may you need in an emergency.
INCLUDES:
Full Boxes of Regular fabric band-aids
Knuckle Bandaids
Fingertip Bandaids
Extra Large Bandaids
Alcohol Wipes
Antiseptic Wipes
25 Ct. Triple Antibiotic Ointment
25 Ct. Hydrocortisone Cream
2 pack wound seal with applicators
(1) 3″ Coban
(2) gauze rolls
(1) 36″ Stat Splint
(1) 4 oz buffered eyewash
(2) 1/2 oz sterile eyewash
4 eyecups
(2) sterile wound flush
Burn Free 4 oz Gel
Burn Free 4 x 4 dressing
Full box 100 ct. Ibuprofen
Full Box 100 ct. APAP(tylenol)
Full Box 50 ct Cough Drops
6 packets Cold Relief
6 packets Medi-Lyte Tablets(Electrolytes)
6 packets Pain Off (Excedrin)
6 sting swabs
(10) 3 x 3 gauze
(10) non-adherent pads
(4) eye pads
5 x 9 trauma compress
Triangle Bandage
1 Waterproof tape
1 Transpore tape
Tweezers with a magnifying glass
Trauma Scissors
Penlight
2 pack Nitrile Gloves
Additional information
| | |
| --- | --- |
| Weight | 15 lbs |
| Dimensions | 14 × 7 × 18 in |
You may also like…
You've just added this product to the cart:

72 Hour First-Aid/Trauma/Survival Food Kit

72 Hour First-Aid/Trauma/Survival Food Kit

72-hour First-Aid and Food Kit in crush-resistant waterproof case.  Everything you need for survival in one place. Perfect for most emergencies in any occasion: home, workplace, school, outdoors, travel, survival when somebody gets injured, or unintended disasters come, such as earthquakes, tornadoes, flooding, hurricanes.

You will be ready to go when disaster strikes. With a hardshell Seahorse case, you can rest easy knowing that the life-saving contents of your kit will always be ready in your time of need. This kit contains both the food and first-aid equipment necessary for a 72-hour period.

This item is eligible for purchase partially with FSA/HSA Card.  Please call for ordering 800-868-4003!

$

795.00

You've just added this product to the cart:

Trauma Backpack Best Seller - RED

Trauma Backpack Best Seller – RED

#1 Selling Trauma Pack with all the new technology First-Aid that can help families treat injuries and reduce costly emergency room visits.  For 95% of all insured Americans, the average ER visit costs a family well over $500.00 which would more than pay for this kit.  This kit can save you from making multiple Emergency Room visits.

This item is eligible for purchase with HSA & FSA card!

$

525.00

You've just added this product to the cart:

2 Shelf Metal First-Aid Cabinet

2 Shelf Metal First-Aid Cabinet

2 Shelf First-Aid cabinet meets OSHA and ANSI requirements for business first-aid as well as for an in-home first-aid cabinet.

This item is eligible for purchase with HSA & FSA card!

$

225.00
Related Products
Out of stock

Trauma Deluxe Waterproof Case with wheels and handle

This is the Trauma Deluxe Hard Case; fully stocked trauma kit.  These kits are popular among tactical medics, EMT's and preparedness minded people. Water resistant and super durable materials make this bag an asset to have in any weather or condition.  Only available in safety yellow.

This pack is fully stocked with all of our amazing products that you need to actually treat injuries rather than just covering the injury up. You will reduce the need of additional transport needed with the contents of this bag. (Being able to avoid an ambulance ride will greatly reduce your healthcare costs!)

The kit has extra space inside for you to put your own gear as well as all of the included contents.

Our customers say that this pack is awesome and a must have for any skill level. Fully stocked, durable, lightweight, & water-proof. Extra room in the kit for you to put additional items and equipment.

When used in addition to our Virtual Medic video app, there is no situation that you won't be able to handle!

This item is eligible for purchase with HSA & FSA card!

$

675.00