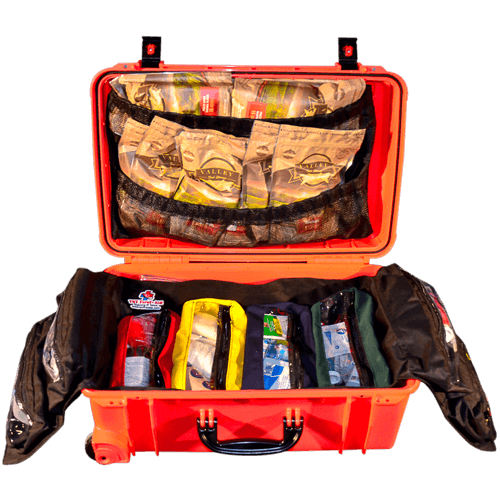 96 Hour Medical/Food Kit
96-hour First-Aid and Food Kit in crush-resistant waterproof case.  Everything you need for survival in one place. Perfect for most emergencies in any occasion: home, workplace, school, outdoors, travel, survival when somebody gets injured, or unintended disasters come, such as earthquakes, tornadoes, flooding, hurricanes.
You will be ready to go when disaster strikes. With a hardshell Seahorse case, you can rest easy knowing that the life-saving contents of your kit will always be ready in your time of need. This kit contains both the food and first-aid equipment necessary for a 96-hour period.
This item is eligible for purchase with HSA & FSA card!
$795.00
2 in stock
Description
Additional information
Reviews (0)
Description
This 96-hour kit is like nothing ever seen for a complete kit. It comes in a fully loaded Seahorse crush-resistant, waterproof case to withstand whatever situation that may come your way. For a complete overview of all the contents, check out the video above.
INCLUDES:
(10) Valley Food Storage- 25 yr shelf life food (each container contains 4 servings)
Cooking stove
Fire Puffs firestarter
(4) Solar blankets
Cyalume Light
Seychelle Water purification bottle
Whistle
Med Packs with OTC meds
Band-aid Packs (knuckle bandages, fingertip bandages, straight bandages)
Steri-strips
Large patch bandages
Sanitary wipes
Betadine wipes
Antiseptic wipes
Triple antibiotic ointment
Hydrocortisone cream
Sting Swabs
(2) Coban, Ace Bandage
8x 10 Trauma dressing
5 x 9 Trauma dressing
Kerlix
Cling Gauze
36″ Stat splint
Dyna stopper compress
RATS Tourniquet
Israeli combat dressing
Quick Clot
Wound Seal Vial
Wound Seal with Applicators
(2) Instant Ice Wraps
(10) 3 x 3 Gauze pads
(10) Non-adherent pads
Foreign Object Removal Kit
Burn Free Face Dressing
Burn Free 4 x 4 dressing
Burn Free 4 oz bottle
4 oz Buffered eyewash
(2) 1/2 oz Eye wash saline bullets
(4) Eyecups
(2) Wound flush
2 oz Antiseptic spray
Irrigation Kit
All medical supplies are organized into color-coded removable pouches for quick and easy ability to find needed supplies. Organized by bleeding, burns, trauma, ointments and creams, Sprains and Strains, etc.
Take this kit with you if you need to evacuate and survive out of your home for 4 days.
In addition to having everything you may need for 96 hours, download the Virtual Medic App for videos and additional information on how to use your equipment and how to treat injuries properly.