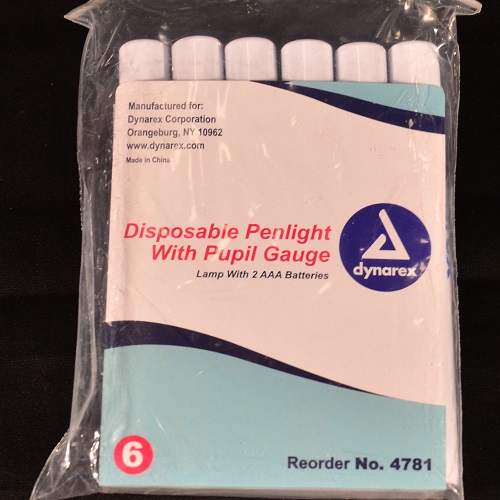 Disposable Pen Light
Standard pen light with clip. Pupil gauge printed on the side.
This item is eligible for purchase with HSA & FSA card!
$3.00
Description
Disposable Pen light with pupil gauge.  Checking the eyes for reactivity is an important vital sign to check especially in cases of head trauma. Can also be used to cast light in dark situations.
Related Products
You've just added this product to the cart:

Trauma Backpack Blacked-Out

Trauma Backpack Blacked-Out

This is the Trauma Backpack Blacked-Out; fully stocked trauma kit.  These kits are popular among tactical medics, EMT's and preparedness minded people. Water resistant and super durable materials make this bag an asset to have in any weather or condition.

This pack is fully stocked with all of our amazing products that you need to actually treat injuries rather than just covering the injury up. You will reduce the need of additional transport needed with the contents of this bag. (Being able to avoid an ambulance ride will greatly reduce your healthcare costs!)

The bag has extra space inside for you to put your own gear as well as all of the included contents.

Our customers say that this pack is awesome and a must have for any skill level. Fully stocked, durable, lightweight, & water-resistant material. Extra room in the pack for you to put additional items and equipment.

When used in addition to our Virtual Medic video app, there is no situation that you won't be able to handle!

This item is eligible for purchase with HSA & FSA card!

$

425.00