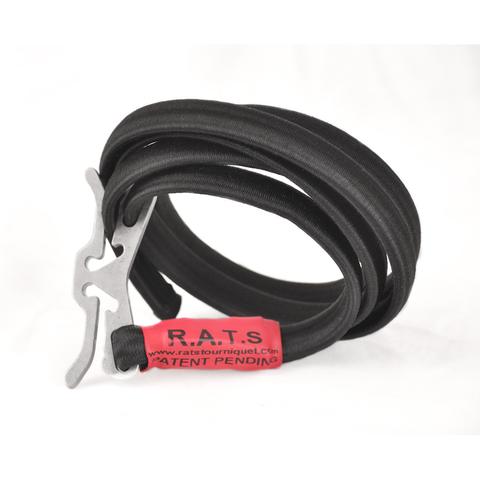 Rapid Application Tourniquet System "RATS" Gen 2
Rapid Application Tourniquet System Gen 2
The RATS tourniquet is a must have in any serious First Aid Kit. Designed with saving lives in mind, this tool was made to be used with one hand if needed. The simple design ensures ease of use no matter the situation.
The RATS is large enough to occlude most any bleed and can get small enough to be one of the only on the market approved for use on canine arterial bleeds.
The size of the tourniquet makes it super easy to store anywhere in your kit and won't weigh you down.
$16.99
4 in stock
Description
RATS Gen 2– Rapid Application Tourniquet System is the fastest tourniquet on the market and proven in combat. Invented and patented by a 28 year Special Forces Medic with multiple combat trauma experiences under his belt. The RATS uses a solid vulcanized rubber core with a nylon sheath, combined with a unique locking mechanism to make an incredibly fast tourniquet to apply to self or others.
No other tourniquet compares to the RATS when being used under stress in terms of time or ease of use.
The RATS is:
Easy to learn and use

Simple design

Allows for one-handed use

Small and takes up minimal space allowing you to store them almost anywhere

Designed to also allow for use on small limbs, i.e. working dogs

Proven to be effective in occluding blood flow in both upper & lower extremities by the U.S. Army's Institute of Surgical Research

Patented 

U.S. Pat. No. 9,168,044
You may also like…
Wound Seal Vial Sterile

$

13.00

Out of stock

Fracture Fork

The tuning fork has been used to detect fractures for many decades. It is an effective way to determine the difference between a sprain and a fracture. This tool will save you time and money.

With minimal training, this piece of equipment can be easily used.

This item is eligible for purchase with HSA & FSA card!

$

20.00

Wound Seal with Applicators

$

11.00