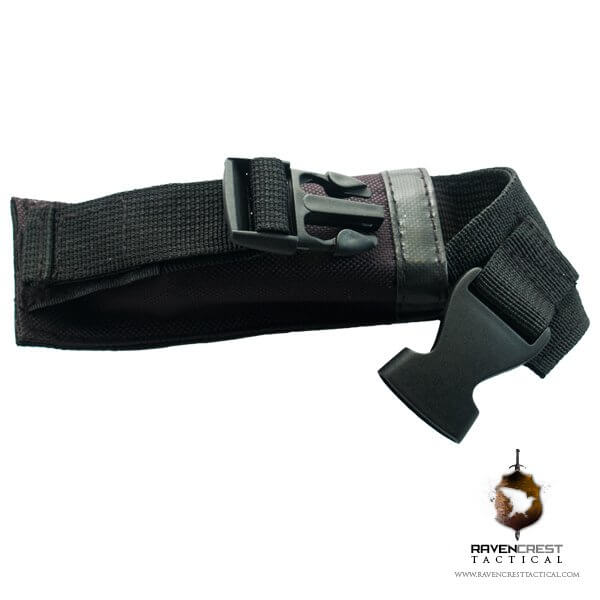 RavenCrest Cerakote Titan Bravo Tactical OTF Knife (Graphite Black)
Highlights:
FREE LIFETIME WARRANTY
Made in the U.S.A.
Full Sized knife in your pocket
3.5″ blade
Zink Alloy handles coated in Cerakote
Ambidextrous
Stainless Steel precision internal components
Safety Mode: the blade will instantly stop if there is anything obstructing its path
The Titan Tactical OTF Knife (OTF= Out the Front), developed by RavenCrest Tactical, is perfect for those who want to carry a full-size knife without any extra bulk.  Titan is a true workhorse and a favorite of many.
$158.99
Out of stock
Description
Additional information
Reviews (0)
LIFETIME WARRANTY
Description
The Titan is built for tough use.  Each Titan comes standard with a 3.5″ 440c blade that is meticulously hand sharpened to a razor's edge to cut right out of the box.  The smooth ergonomic handles on the Titan are made of high-quality Zinc Alloy that is individually hand coated with Cerakote, which gives it maximum hardness and corrosion resistance.  The button placement along the spine of the handle allows for lighting fast ambidextrous openings right from your pocket.  The Titan also allows for right and left-hand users to pocket carry with its stainless steel reversible pocket clip.  If that wasn't enough; the Titan OTF knife also comes equipped with a "tested" glass breaker pommel.
The inner workings of the Titan don't disappoint.  "Under the hood" you'll find all stainless steel precision parts, and a proprietary coated high-performance spring.
All RavenCrest Tactical OTF knives come with a built-in safety that will not allow the blade to fully deploy if anything is obstructing its path.  Once in "safety mode" the blade will need to be reset by pulling the blade all the way into its locking position making it fully functional again.  The Titan comes with the RavenCrest Tactical famous lifetime and eternal warranty, giving you confidence and peace of mind.  RavenCrest tactical knives are made right here in the USA.
What is Cerakote?  Cerakote is not a paint.  Cerakote is a polymer-ceramic coating that can be applied to metals, plastics, polymers, and wood.  The unique formulation used for Cerakote ceramic coating enhances a number of physical performance properties including abrasion/wear resistance, corrosion resistance, chemical resistance, impact strength, and hardness.
When you purchase a RavenCrest Tactical OTF Knife you are not just getting a knife, but a knife for life. We back every one of our OTF Knives with a Lifetime Warranty. If your knife fails you for any reason simply send it back to us and we will first attempt to repair the knife. If the knife is beyond repair we will replace it with a new one. We stand behind our knives and we care about our customers. It's that simple.