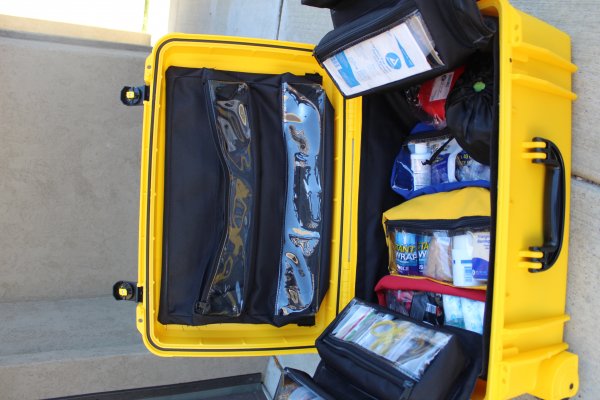 Trauma Deluxe Waterproof Case with wheels and handle
This is the Trauma Deluxe Hard Case; fully stocked trauma kit.  These kits are popular among tactical medics, EMT's and preparedness minded people. Water resistant and super durable materials make this bag an asset to have in any weather or condition.  Only available in safety yellow.
This pack is fully stocked with all of our amazing products that you need to actually treat injuries rather than just covering the injury up. You will reduce the need of additional transport needed with the contents of this bag. (Being able to avoid an ambulance ride will greatly reduce your healthcare costs!)
The kit has extra space inside for you to put your own gear as well as all of the included contents.
Our customers say that this pack is awesome and a must have for any skill level. Fully stocked, durable, lightweight, & water-proof. Extra room in the kit for you to put additional items and equipment.
When used in addition to our Virtual Medic video app, there is no situation that you won't be able to handle!
This item is eligible for purchase with HSA & FSA card!
$675.00
Out of stock
Description
Additional information
Reviews (0)
Description
Our Trauma Deluxe Hard case kit is contained in a crush resistant, waterproof case, with retractable handle and wheels for easy carry.  Inside the kit is a custom made heavy Cordura liner with color coded removable pockets.  This kit is manufactured 100% in the USA from the case to the liner.  There is not another design like this out there.  We created it.  Currently only available in Safety Yellow.
The pack comes fully stocked and weighs less than 18 lbs! There is also plenty of room to add personal items or more advanced trauma items.
The kit comes fully stocked with the following life-saving items:
Bandage Pack with fingertip, knuckle, straight strip, large patch fabric bandages, Sanitary preps, antiseptic wipes, Steri strips, sting swabs, triple antibiotic ointment, hydrocortisone cream, betadine wipes
Med Pack with ibuprofen, Tylenol, Excedrin, antacids, electrolytes, cold relief meds
2 oz antiseptic spray
Nitrile gloves (2) pair
Wound Seal Powder Vial – 30 stitches worth of powder
Wound Seal Powder with 2 Applicators for nose bleeds and hard to reach bleeds
Quick Clot packing gauze 4″ x 4′
RATS tourniquet
Dynastopper compress
(20) Sterile gauze pads
(20) Non-adherent pads
8 x 10 Trauma dressing
(2) 5 x 9 Trauma dressing
Israeli bandage
(4) Rolls sterile Kling gauze
Sterile Kerlix roll
2″ Coban
3″ Coban
3″ ace wrap
Tri-cut waterproof tape 3 sizes in one roll
Transpore Tape
4 oz Buffered eyewash
(2) 1/2 oz Eye wash
Eye Cups
Eye Pads
Trauma scissors
Foreign object removal kit (tweezers, splinter probe, eye magnet eye loop)
Penlight
(2) Instant ice wraps
Large instant ice pack
(2) Triangular dressings
High-quality CPR pocket mask
Irrigation kit 60 cc with try
(2) 30ml wound flush sterile
Hand sanitizer 2 oz bottle
Burn free 12 x 16 face dressing
4 oz burn free gel
4 x 4 burn free dressing
36″ Stat Splint
Nasal Airway with lube
Stethoscope
Blood Pressure Cuff
Oral Airway Kit (OPA)
Chest Seal
Cervical Collar adjustable
You may also like…
K9FAK (Canine First-Aid Kit)

This is the first true K9 First-Aid kit geared just toward K9 trauma.  This kit will take care of arterial bleeding, sucking chest wound, Lacerations, Wound Cleaning, Induce vomiting, Bandaging, Make shift Muzzle to protect care giver, Twisted Intestines (bloating) and more…  Comes in a Mole strap thick nylon pouch with YKK zippers.  Strap it to your dogs vest or handlers belt or vest for quick and easy access for when seconds count.  Great for search and rescue dogs, Canine officers, Military service dogs, Service animals, as well as anybody that loves their pets.  This kit is a must have for working dogs.

This item is eligible for purchase with HSA & FSA card!

$

125.00

Moto-Fak (motorsports first-aid kit)

The Motorsports first-aid kit is geared up just for racing and all motorsports first-aid needs. This specialized kit is made with saving space in mind. Housed in a super tough, crush-resistant & waterproof case, this kit is made to withstand all the bumps in the road that come with being stored in the car, race trailer, RV, boat etc.

The contents were hand-picked with a purpose in mind. The owner of TNT First Aid worked in the motorsports safety industry for over 20 years, with NHRA Safety Safari, sprint car and stock car racing. The products in this kit were selected to treat the most common motorsports injuries. This kit comes fully stocked and ready for whatever the road ahead may have in store. Enjoy the peace of mind that comes with knowing that you'll have what you need when you need it.

This item is eligible for purchase with HSA & FSA card!

$

365.00

Ultimate Water Sports Trauma Kit

Ultimate Water Sports First-Aid Kit. This kit has the life saving tools you need for any circumstance and comes in a case that will protect your gear from water and dust. This kit is designed to withstand heavy abuse as it travels in the boat or work truck.

This item is eligible for purchase with HSA & FSA card!

$

185.00