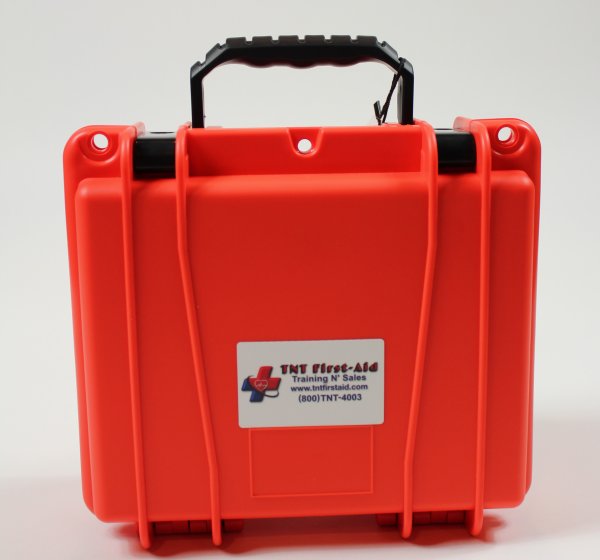 Ultimate Water Sports Trauma Kit
Ultimate Water Sports First-Aid Kit. This kit has the life saving tools you need for any circumstance and comes in a case that will protect your gear from water and dust. This kit is designed to withstand heavy abuse as it travels in the boat or work truck.
This item is eligible for purchase with HSA & FSA card!
$160.00
4 in stock
Description
Additional information
Reviews (0)
Description
Ultimate Watersports and adventure Trauma Kit.  At TNT First-Aid Inc. we believe in treating injuries, not just covering them and getting expensive emergency room visits.  This kit will do that.  Kit Includes all life-saving items list below.    
Bandage pack of assorted bandages
Triple Antibiotic ointment, antiseptic and Betadine wipes, hydrocortisone cream, sting swabs.
Med pack of OTC medications.  Ibuprofen, Tylenol, antacids, Excedrin, medi-lyte (electrolytes), Cold Relief.
(5) 3 x 3 sterile gauze pads.
(5) 2 x 3 non-adherent pads.
Sterile 5 x 9 dressing.
Triangle bandage
Wound seal powder with applicators.
Roller Gauze Sterile.
(2) 1/2 oz eyewash and eye cups.
Sterile wound flush.
coban 2″.
waterproof tape.
instant ice wrap.
instant ice pack.
2 oz burn free gel.
4 x 4 burn free dressing.
hand sanitizer.
2 pair of black nitrile gloves.
10cc irrigation syringe.
Trauma Scissors.
Penlight.
Tweezers with a magnifying glass.
RATS Tourniquet
The kit comes with a seahorse crush resistant, waterproof case that floats. Lifetime warranty on the case from Seahorse.    Available in safety orange or yellow. Please specify on order which color you would like.  
This kit is a great work truck first aid kit or for the boat, RZR, ATV or in areas where dust or water is a problem.  This case will take a beating and continue to function as new.
Kit measures 10″x 9″ x 4″
Additional information
| | |
| --- | --- |
| Weight | 5 lbs |
| Dimensions | 10 × 9 × 4 in |
You may also like…
Trauma Backpack Blacked-Out

This is the Trauma Backpack Blacked-Out; fully stocked trauma kit.  These kits are popular among tactical medics, EMT's and preparedness minded people. Water resistant and super durable materials make this bag an asset to have in any weather or condition.

This pack is fully stocked with all of our amazing products that you need to actually treat injuries rather than just covering the injury up. You will reduce the need of additional transport needed with the contents of this bag. (Being able to avoid an ambulance ride will greatly reduce your healthcare costs!)

The bag has extra space inside for you to put your own gear as well as all of the included contents.

Our customers say that this pack is awesome and a must have for any skill level. Fully stocked, durable, lightweight, & water-resistant material. Extra room in the pack for you to put additional items and equipment.

When used in addition to our Virtual Medic video app, there is no situation that you won't be able to handle!

This item is eligible for purchase with HSA & FSA card!

$

425.00

3 Shelf Metal First-Aid Cabinet

This OSHA and ANSI approved 3-shelf metal first aid cabinet comes fully stocked and ready to be used right away. Great for homes and businesses.

Give your employees the peace of mind to know that you care about their safety. This cabinet is made of durable materials to withstand years of use and can be refilled whenever needed with the same products from TNT First-Aid or most standard first-aid materials from other manufacturers.

This item is eligible for purchase with HSA & FSA card!

$

275.00

Trauma Backpack Best Seller – RED

#1 Selling Trauma Pack with all the new technology First-Aid that can help families treat injuries and reduce costly emergency room visits.  For 95% of all insured Americans, the average ER visit costs a family well over $500.00 which would more than pay for this kit.  This kit can save you from making multiple Emergency Room visits.  Make sure you download our App in the app store Virtual Medic (Apple, Android)  Video instruction on exactly how to use everything in this pack.  It stores the videos on your phone so you will have them even if you don't have service.

This item is eligible for purchase with HSA & FSA card!

$

425.00